Printing with Snipping Tool is unfortunately not possible! This is a major shortcoming that has been discussed in forums like http://www.aerotaskforce.com/view/862 many times. Also the corresponding  corresponding Windows 7 forums are full of requests for this feature. But in Windows 8 it is still not possible to print directly from the Snipping Tool!
In the old DOS times, pressing the print-screen key would send the screenshot directly to the printer. This was a simple but very useful simple process. Unfortunately not even the most modern Windows 8 from Microsoft has this simplicity. Read here what is required to take a screenshot in Windows 8.
There are two options to get the screenshots to the printer:
Print with Capture ScreenShot lite which has a print button built in:
http://www.gutmannsoft.com/en/screenshot/capture-screenshot-lite.php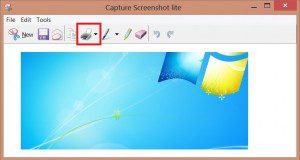 Printing with Snipping Tool included with Windows:
Save the screenshot as an image.
Click the save dialog again.
Right-click the image and select "print" from the context menu.